Just placesetter at the moment as there seems to be discussion starting already for this race.
I am away and was away yesterday for the Sandown Historics all weekend so dont have the time to do a preview for the next couple of days, but I will add it here in due course.
In the meantime here is a current thread so any discussion for the 2023 Las Vegas GP can happen here.
OK as promised a bit of a preview and stuff. Sorry its all a bit rushed and difficult to write stuff about when so little is known.
2023 WHAT HAPPENS IN VEGAS STAYS IN VEGAS SIN CITY GP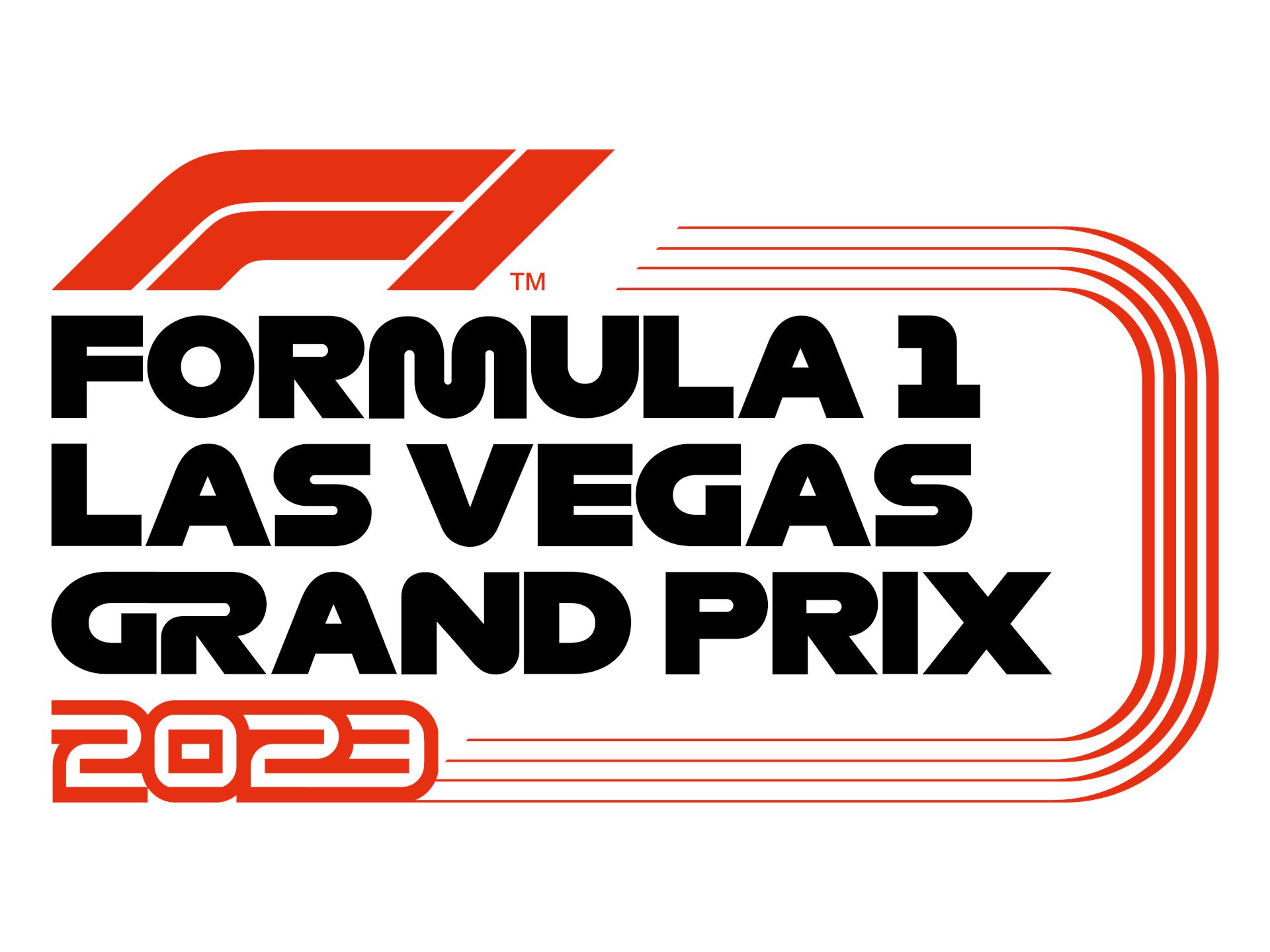 Formula 1 returns to Las Vegas after an absence of 41 years. They tell us it promises to be one of the most spectacular events of the season. Jury might still be out on that one.
We know there is nothing major to fight for with Max and Red Bull long crowned for their dominance. We still have the battle for 2nd in the WDC, with Sergio having stated his case last race and now taking a 32 point lead into Vegas.
In a nutshell if Sergio leaves Vegas with a 26 point lead it is job done... even a Sergio DNF, and a Lewis win with FL bonus means that Sergio would take 2nd on countback. With Fernando and Lando suddenly showing form, Lewis needs to keep an eye on his mirrors. A bad weekend for him and good ones from the two Andos (Nando and Lando) there could be a fight for 4rd 4th and 5th.
POS DRIVER CAR PTS
1 Max Verstappen RED BULL RACING HONDA RBPT 524
2 Sergio Perez RED BULL RACING HONDA RBPT 258
3 Lewis Hamilton MERCEDES 226
4 Fernando Alonso ASTON MARTIN ARAMCO MERCEDES 198
5 Lando Norris MCLAREN MERCEDES 195
Then there is the battles for 2nd and 3rd in the WCC between Mercedes and Ferrari, with just 20 points separating them going in to the weekend..... Also to a lesser extent the battle for 4th /5th in the WCC between Aston and McLaren......
with Nando and Stroll both hitting their straps in Brazil McLaren needs Piastri to jump up to the plate. Unlikely perhaps that 4th and 5th will swap but its a strange game.
1 RED BULL RACING HONDA RBPT 782
2 MERCEDES 382
3 FERRARI 362
4 MCLAREN MERCEDES 282
5 ASTON MARTIN ARAMCO MERCEDES 261

Vegas of course has F1 history.... from memory, none of it good
. In 1981 and 1982 the Caesars Palace Grand Prix was run on a tortuous track laid out in the car park of the famous Las Vegas hotel. More of that later.
For Formula 1's return to Nevada, there is a brand new 6.2 kilometre-long track which runs down the Vegas Strip past several of the city's most famous landmarks. It's a short run from the start line to the first corner, a tight left-hander followed by a combination of technical corners which lead onto one of the two long straights and the first of the two DRS zones, before the drivers will brake hard for the right-hand turn 5. The second sector is all about speed, with the drivers accelerating out of turn 9, going into a sharp left which leads onto the 1.9 kilometre straight as the cars fly down the famous strip, including the second DRS zone. After that comes the narrow chicane at turns 14, 15 and 16 which leads back to the main straight.
Of course none of us have any real idea about lap times
This is the third race of the season in the United States
and the very first night (F1) race to be held on American soil.
It means the timetable is completely different to usual, with track action kicking off on Thursday evening, going on well into the night. Then on midnight from Friday to Saturday it's time for qualifying, while the race starts 22 hours later, at 10pm local time on Saturday. This will be the first time a Grand Prix will not be held on a Sunday since the 1985 South African GP at Kyalami, which was also run on a Saturday. For European viewers, it will be the same as getting up to watch the races in the Far East, race start time being 7 (CET) in the morning on Sunday.
Lets get the programme of times sorted.
For those doing GTP dont miss the Thursday local time FP1 start.
We have the quirk of technically having both qualifying and the race on Saturday, albeit with a sleep between them.
THURSDAY 16 NOV
Practice 1
20:30 - 21:30
FRIDAY 17 NOV
Practice 2
00:00 - 01:00


FRIDAY 17 NOV
Practice 3
20:30 - 21:30


SATURDAY18 NOV
Qualifying
00:00 - 01:00


SATURDAY 18 NOV
Race
22:00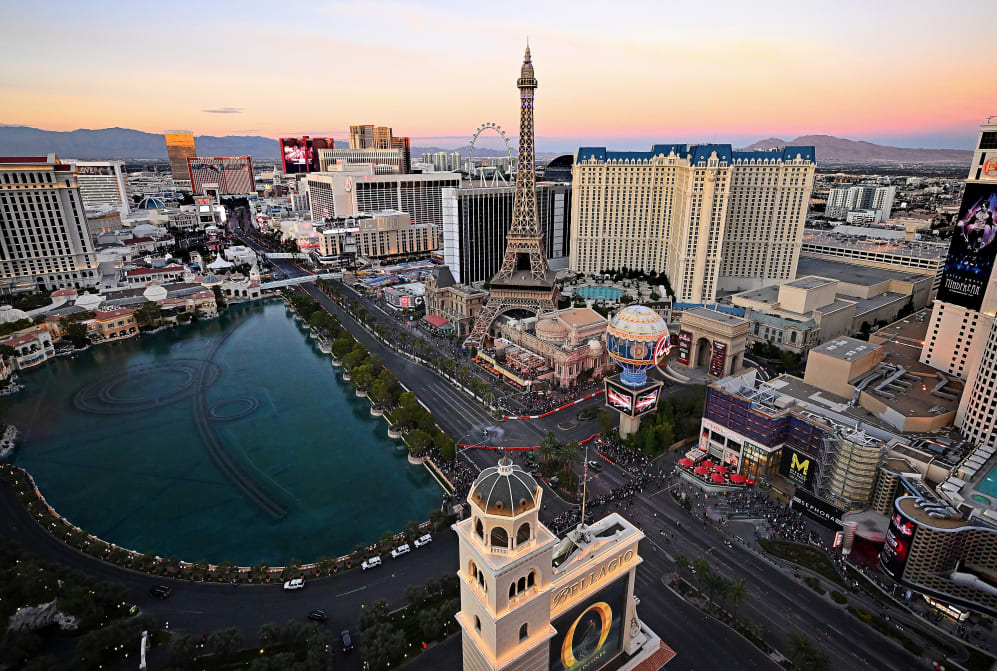 Desert be buggered.... its going to be cold when the cars hit the track.....

While deserts tend to be associated with heat, it will actually be very cold in the Nevada night, with a track temperature of around 15 degrees, or what one would normally associate with pre-season winter testing in Europe. Cold cold cold
Las Vegas is a night race and, being in a desert, the sunshine temperatures reach 20°C during this time of the year, however at sunset the temps plummet fast and it gets very cold.
The 2023 Las Vegas Grand Prix could go on record as being the coldest Formula 1 race ever held, as night-time temperatures of 5°C (41°F) andmaybe even lower are predicted for the weekend of 17-19 November.
The kind of temperatures F1 experienced during European winter testing in the past, but not during the season. The coldest GP on record wasthe 1978 Canadian Grand Prix which local hero Gilles Villeneuve(Ferrari) won in October with the temperature at 5°C for most of theday.
I remember Gilles wearing a ski-ing parka on the podium it was so cold. In fact a piccie I just found.
Found another with Reutemann swapping his baseball cap for a beanie, with Scheckter also joining them and sporting warm outerwear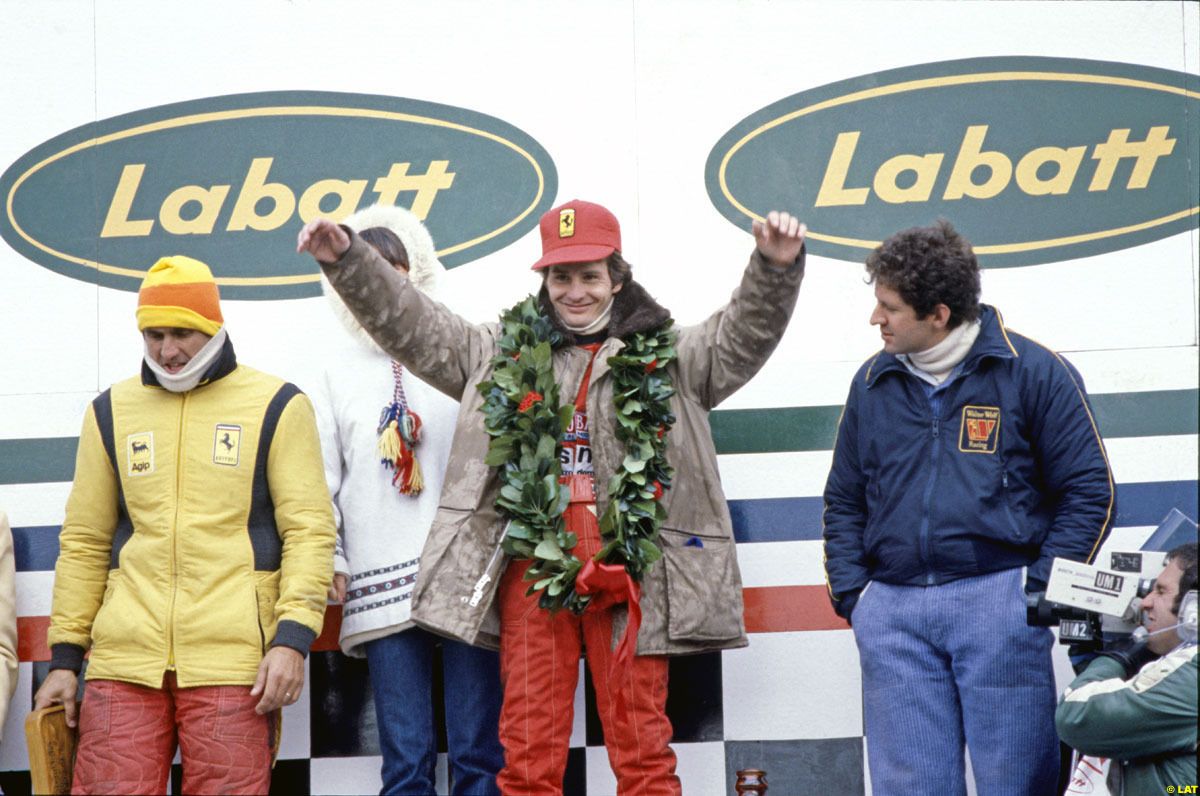 Which brings me to tyres....
TYRES
Pirelli have selected the trio of softest compounds for this weekend: C3, C4, and C5
, which should guarantee good grip. Minimum tyre pressures should be 27 psi at the front and 24.5 psi at the back, due to the expected low temperatures as well as the track layout. In cold conditions, the gap between cold tyre pressures and normal running pressures is greatly reduced – so when the car is moving, tyre pressure will increase a lot less than on other circuits due to the low asphalt temperatures. As a result, we think that running pressures will still be lower than on other circuits that are tough on tyres, such as Baku for example.
I have mentioned a bit about the track but lets look closer
THE TRACK.
The new Las Vegas street circuit consists of 17 corners and three straights, with two DRS zones. The lap is 6.12 kilometres long, with an estimated top speed of 342kph. The finish line is on the corner of Harmon Avenue and Koval Lane, with the layout stretching from Las Vegas Boulevard to Sands Avenue and a race distance of 50 laps.
t will also be a major technical challenge for both the teams, as we head into this race with no real references apart from simulation. Nobody has ever actually driven the 6.12-kilometre Las Vegas Strip circuit before, which is second only to Spa in terms of overall length this year, characterised by three straights and 17 corners. The surface will be a mix of the usual street asphalt, especially on the actual Strip, as well as other parts that have been completely re-asphalted for the occasion; adding another unknown element. There won't be any support races and the track will be opened again to normal traffic for long chunks of the day, which means that the surface won't rubber in as usual and deliver improved grip.
We're expecting the cars to run quite low levels of downforce, similar to Baku or indeed Monza: hitting a high top speed will be key to being competitive. All the sessions will take place at night, with unusual ambient and track temperatures for a race weekend; more similar to those found back when pre-season testing used to take place in Europe. Those long straights also make it harder to warm up tyres in qualifying, as well as keep them in the right window: the same challenge as seen in Baku, which will probably be more pronounced in Las Vegas.
A few words from Alex Albon on how he rates the track.
Good news is that Alex is confident the 6.2-kilometre, 17-turn Las Vegas Grand Prix street circuit, run against an extravagant neon backdrop, will provide plenty of chances for overtakes.
The track features two DRS zones, one between Turns 4 and a sharp right-hander at Turn 5 on the approach to the Sphere, with the other towards the end of the Strip into a tight left-hander at Turn 14, similar to Baku, and the Azerbaijan GP.
"It's quite a simple circuit in terms of its layout, it's quite easy to learn," said Albon.

"The track is quite interesting, there are quite a few combined corners, which are not easy for front-locking, which is not great for our car, but that's fine.

"The one thing which will be interesting is how good of a job have they done or not with the track, in terms of the roughness and the bumps.

"In terms of racing, there are going to be a lot of overtakes because, at least from what I have driven, there are a lot of opportunities, a lot of places you can overtake."

Although Turn 14 would appear to be the most obvious passing place, particularly given the DRS on the approach, Albon feels it will be Turn 1 that will afford the greater opportunity.

Coming out of Turn 14 there is a short, sharp right-left kink that will allow chasing cars to close the gap on those ahead as they race through the shallow Turn 17 and onto the start-finish straight into Turn 1.

"In its layout, the streets are absolutely massive, so let's see," added Albon.

"For example, in Mexico, there should be more overtaking than there is. There is a massive street.

"But the way sector three is designed, it's not good for racing at all. It's so hard to stay close out of the last corner.

"There's one example of that in Vegas where technically there should be an overtaking spot at the end of the (Strip) straight but the corners before don't allow you to stay that close.

"Everyone thinks it's the high-speed corners where we struggle to stay close but it's not, it's really the low-speed corners where we struggle to stay close because the front end in these cars are so difficult, especially when the cars are so heavy. As soon as you lose the front in the low speed you're gone.

"But in Vegas, especially coming out of the last corner into turn one, it's a corner that's not that hard to stay close, so I think we will get quite a lot of overtaking."
First Grand Prix
2023

Number of Laps
50

Circuit Length
6.201km

Race Distance
310.05 km

Lap Record
N/A (N/A)
Are we gambling on track limits?
Las Vegas
When was the track built?
The 2023 Formula 1 season sees drivers tackle an all-new circuit in Las Vegas, encompassing the very best the City of Lights has to offer – including the famous Strip.
When was its first Grand Prix?
Las Vegas previously staged two F1 races – under the Caesars Palace Grand Prix moniker – in 1981 and 1982. It played host to the season finale on both occasions, with Williams driver Alan Jones winning the 1981 race and Michele Alboreto taking his maiden F1 victory for Tyrrell at the 1982 encounter. Meanwhile, Nelson Piquet and Keke Rosberg clinched the title in '81 and '82 respectively with fifth-place finishes.
What's the circuit like?
Located in the heart of Las Vegas, the new 6.2km, 17-turn street circuit winds its way past iconic locations like Caesars Palace, the Bellagio and the Venetian. With average speeds expected to match Monza, otherwise known as F1's 'Temple of Speed', there promises to be plenty of action and overtaking.
HISTORY
Formula 1 previously raced at Las Vegas as the last round of the 1981 and 1982 seasons, with both events called the Caesars Palace Grand Prix. On each occasion the race decided the championship.....
The concept of holding a race in Las Vegas had been being kicked around for some time in the late 1970s. The casinos had found great success in attracting high-roller gamblers by hosting blockbuster boxing matches and thought F1 could do the same.
There had been plans to tack the race to the end of the 1980 calendar, but organisers couldn't settle on a route in time — or, rather, couldn't get permission to use any public roads that might have made the race a visually exciting spectacle.
But when the Watkins Glen was called off in May 1981 due to ballooning debts, the can had been kicked to the end of the road. It was now or never.
With local authorities still refusing to close roads for the race, organisers had only the casino car park and an adjoining vacant lot build the circuit. It measured around 220,000 square metres, or 22 hectares.
To put that into perspective, the Miami circuit, built on the car park around the Hard Rock Stadium, is roughly 100 hectares, or around five times as big.
T
he Las Vegas Strip Circuit debuting this weekend is laid out around 150 hectares. Albert Park is 225 hectares.
To solve the space problem, Bill Weinberger, a former Caesars Palace vice president, whacked his hand down on a placemat and traced around it. There was space for only three of his five fingers, but in an instant the 3.650-kilometre track was born.
Tilke school of track design?
A few short months later, Formula 1 descended on the Caesars Palace car park for its first grand prix and the 1981 championship decider.
It was a grim spectacle — a vast, flat expanse of featureless tarmac covered in dust and sand from the Mojave Desert and beige as far as the eye could see.
Immediate reactions were not complimentary.
Jacques Lafitte, a title contender, was so scathing of the circuit to Italy's Gazzetta dello Sport that Caesars Palace sued the paper.

Jones was only somewhat less damning, describing the twisty three-fingered track at the time as "like a goat track, dragged down from the mountains and flattened out".
Caesars Palace was run in full sunshine in the middle of the day. The giant slab of tarmac, completely unshaded by any natural or unnatural structure, absorbed and radiated the heat back up into the cockpit, turning the race into 75 laps of excruciating endurance.
Some words from Alan Jones
"And the circuit went in anticlockwise, a different way that what we were normally doing," Jones adds. "A lot of the drivers were suffering very badly on their neck fatigue because of the g-forces.

"I did [struggle] actually. With about 10 laps to go I'd go through a left-hander and my head would fall over to the right, and I had to wait to get to a right-hander for it to come back up again.

"There were a lot of drivers suffering from neck problems because it was quite hot. It was fairly flat, there were no trees or shade or anything. It really was a bit of a test of stamina."
Nelson Piquet had suffered particularly badly. He was so beaten up at the end of the first day of running by the seemingly non-stop left-hand turns that he sourced a masseur to massage him back to fitness.
Just his luck: boxer Sugar Ray Leonard had knocked out Thomas Hearns for the WBA and WBC welterweight titles at Caesars Palace just a few weeks earlier and his masseur was still on hand.
The bad news was the masseur had only one setting: championship boxer. Piquet left the massage room in worse shape than he'd entered.
The 273 sweltering kilometres absolutely fried him. He vomited in his helmet at the end of the race and had to be hauled out of the car by his mechanics after finishing fourth.
It was unfortunate for the Brazilian, for whom the place was enough to win him his maiden world championship.
At least he didn't have to stand on the podium with sick down the front of his race suit. But then again, he could barely stand up at all.
Alan Jones won the Grand Prix for Williams in 1981 but the title went to Brabham driver Nelson Piquet, while the following year's race was won by Tyrrell's Michele Alboreto with Williams driver Keke Rosberg taking the championship (and Ferrari winning the constructors' classification).
Onboard with Prost at Vegas 1n 1981
1981 las vegas grand prix highlights
The track was frightful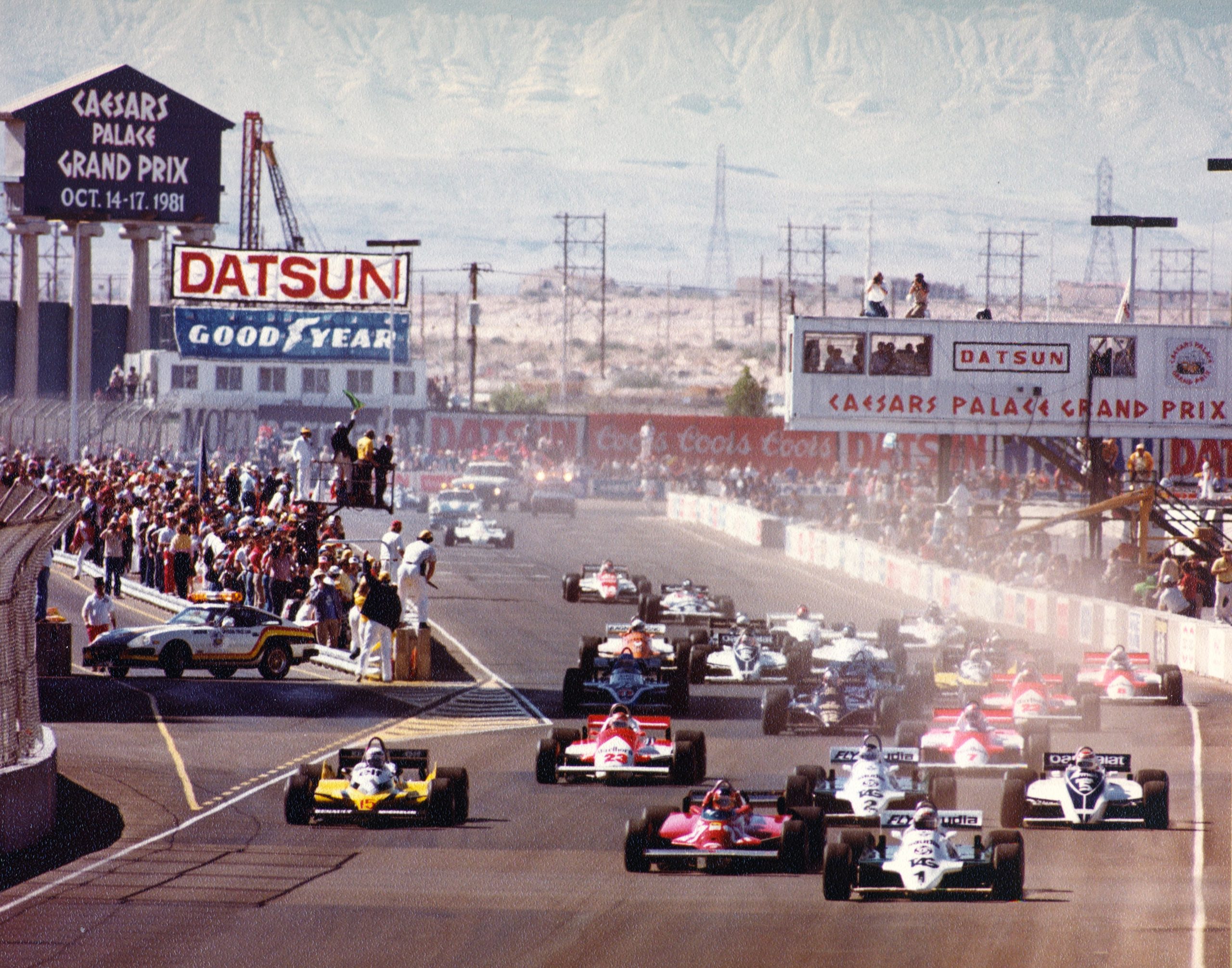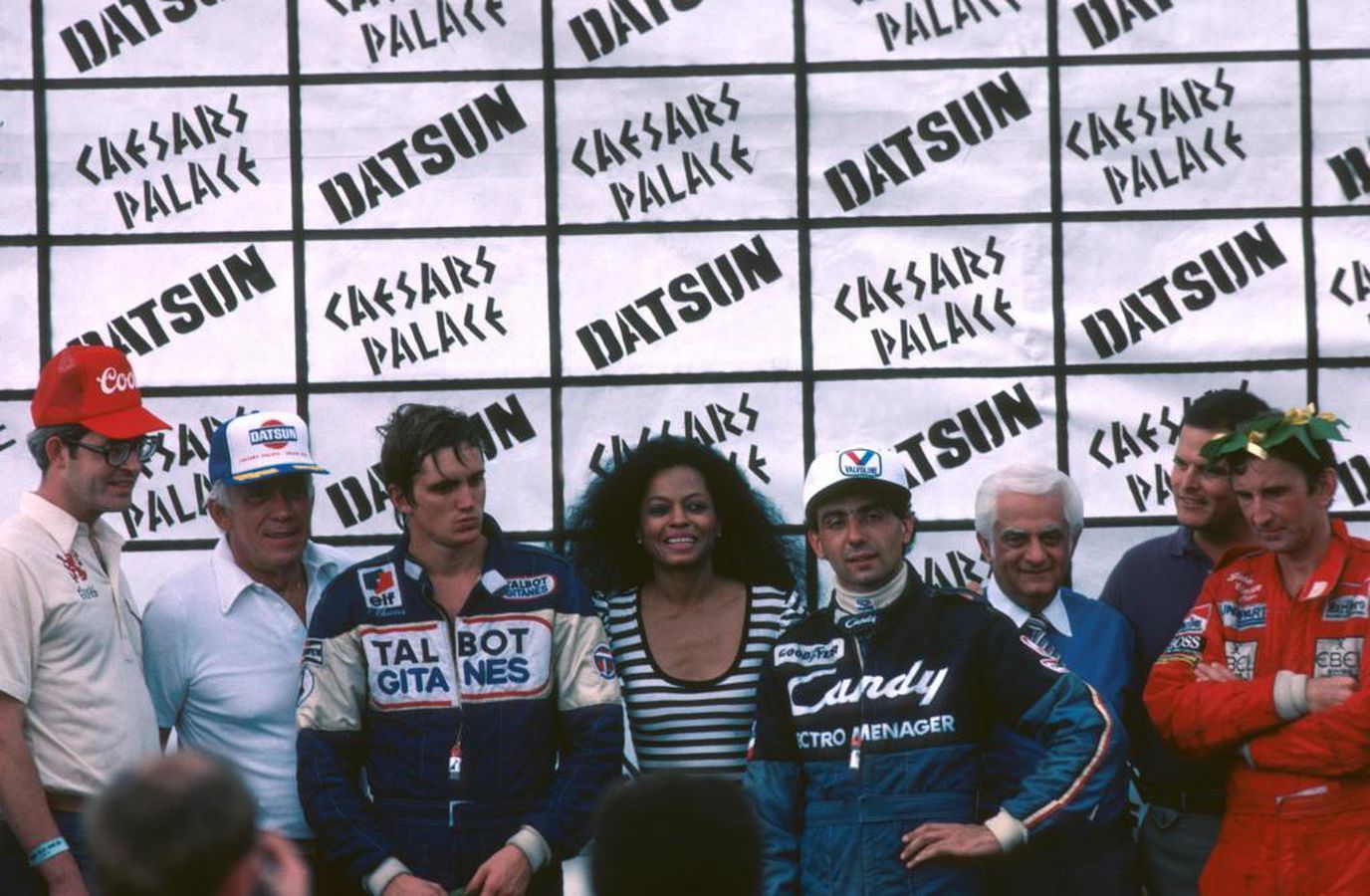 The inaugural race in 1981 featured a three-way title fight between Carlos Reutemann, Nelson Piquet and Jacques Lafitte, with Williams already having comfortably clinched the Constructors' Championship.
Williams' Alan Jones went into retirement (his first) with a victory and Piquet clinching the title with fifth place – despite suffering painful neck spasms and having to be helped from the car at the flag.
In 1982, the Caesar's Palace Grand Prix was F1's third visit to the USA, after Long Beach and Detroit (something only matched in 2020 when Italy hosted races at Monza, Imola and Mugello) and McLaren's interest in the race was much stronger, with John Watson going into the race with a chance – an outside chance – of taking the drivers' title, while the team likewise were a longshot for the Constructors' Championship. Future McLaren driver Keke Rosberg was leading the way for Williams on 42 points, with Didier Pironi second on 39 and Watty third on 33. A crash in practice for the German Grand Prix had halted Pironi's season at race 12 of 16 – and the multiple fractures he suffered to both legs would ultimately prove to be career-ending – meaning it was a straight duel between Rosberg and Watson.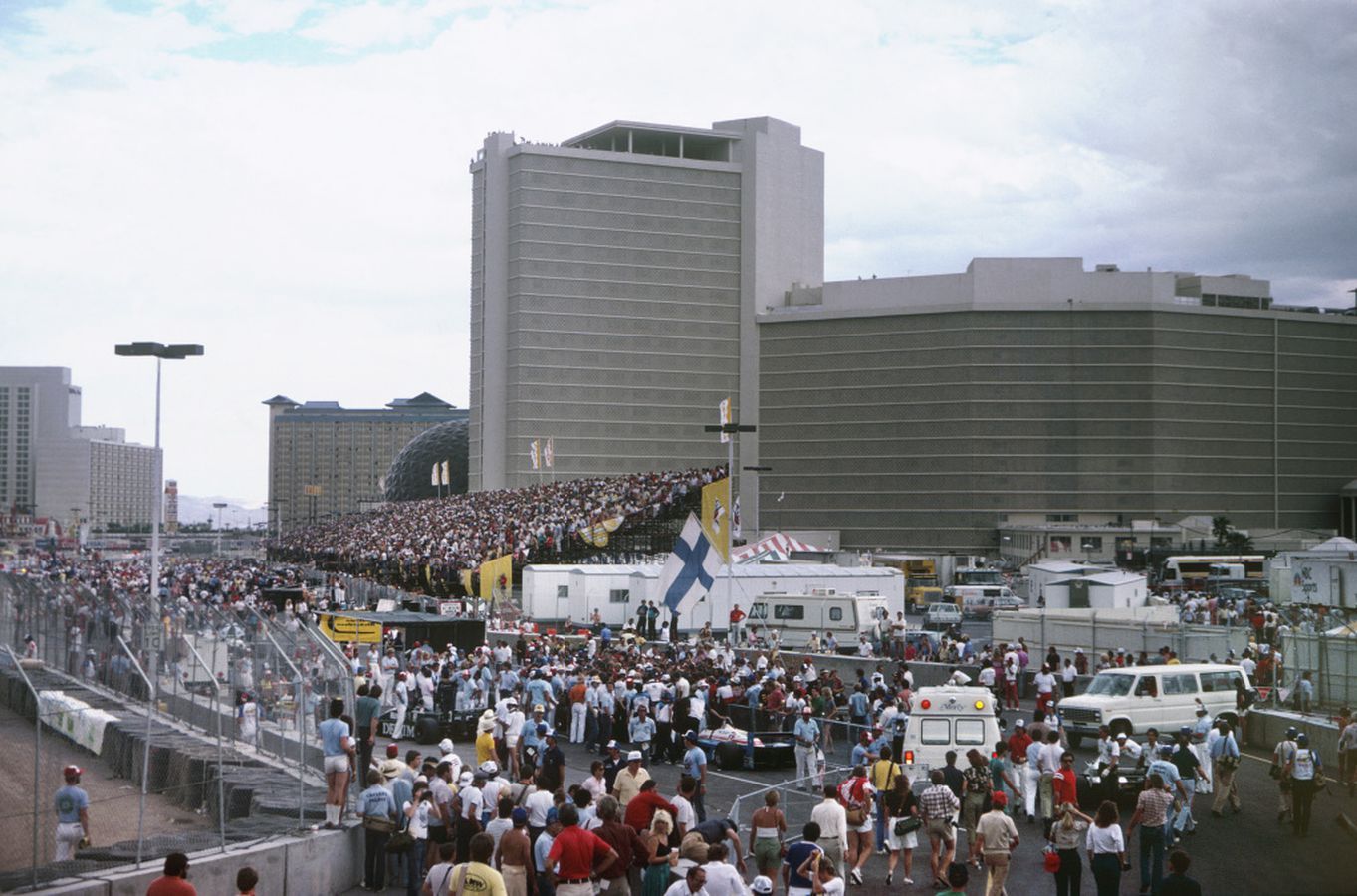 The scoring system in 1982 had nine points for victory, six for second, four for third then three, two, one down to P6
. Therefore, for Watson to win the title, he needed to win the race and hope Rosberg finished outside the top six, at which point his superior victory record would suffice. In modern times, it would be a long shot to imagine a Championship contender so far down, but this race took place in different times. 10 drivers had won across the first 15 rounds, so anything could happen in Vegas. In the Constructors' Championship, McLaren trailed Ferrari 74-63. The death of Gilles Villeneuve at Zolder and Pironi's injuries at Hockenheim had taken the Scuderia out of the running in the Driver's Championship, but a late-season victory for Patrick Tambay in Germany and a spirited third at Monza for Mario Andretti on his return to the F1 cockpit made them clear favourites in the Constructors' Championship.
Watson qualified ninth in the MP4-1B which, again, surprising to a modern audience, was well above his season average, and only the third time he'd started in the top ten all year. The two races he'd won in 1982 came from starting tenth (Zolder) and 17th (Detroit). Rosberg qualified sixth, with the two Ferraris between the pair – but this race was going to be decided on Sunday afternoon.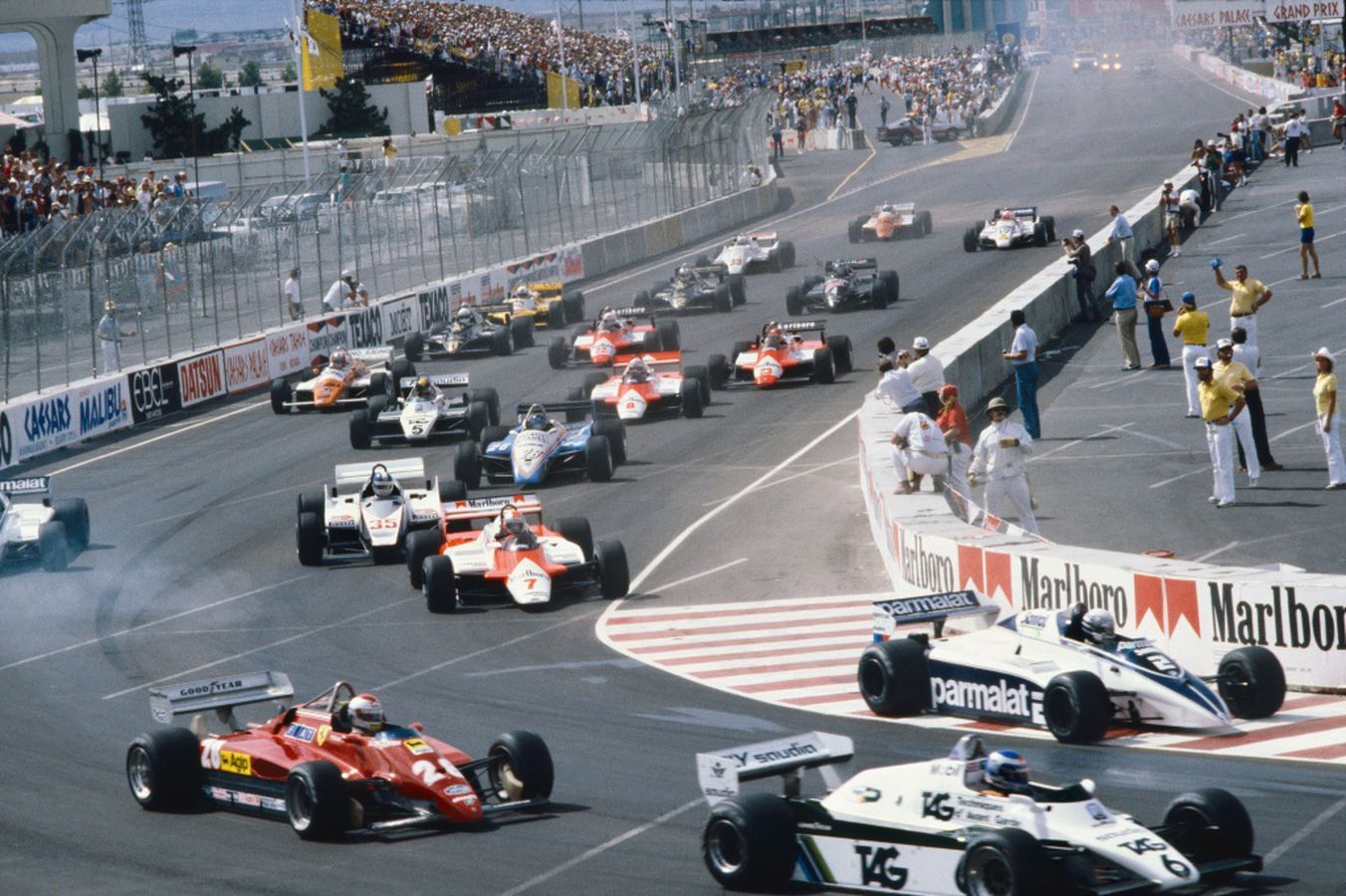 By 1982, turbo engines were well on their way to dominance in F1, but the many short straights of Caesars Palace didn't really allow them to make the most of all that power
– or at least that's was the theory. The front-row lock-out for the turbo Renaults of Alain Prost and René Arnoux suggested otherwise. They led away at the start and gave every impression of disappearing into the distance.
Rosberg slipped a place at the start to P7, but had a comfortable gap to Watson, who slipped even further, finishing the first lap P12. By lap 11, however, he had made his way back up to P8, right on Rosberg's tail, and took P7 from the Finn on lap 15, then passed Andretti the following lap to get into the points. He then picked-off Eddie Cheever for P5, collected P4 when Riccardo Patrese retired and, on lap 20, inherited P3 when Arnoux stopped with an engine problem. The retirements, however, had also pulled Rosberg up into the points also. Watson wasn't making much impression on a front two of Alain Prost and Michele Alboreto, until Prost began to struggle with his tyres late in the race.
Lauda retired on lap 54 with an engine problem, taking with him any chance of McLaren winning the Constructors' title but Watson passed Prost a lap later, reviving a glimmer of hope that his title chances were still alive. With 20 laps to run and the track baking, he needed the perennial unreliable Tyrrell of Alboreto to have a problem, and for something – anything – to happen to Rosberg. Sadly for John, suffering some of the same tyre degradation that was affecting Prost, everything went smoothly in the final quarter of the race. In a wild season, from start to finish it was probably the calmest thing that happened.
Keke came home fifth to claim the Drivers' Championship, the first man to do so with a single victory since 1958.
Ferrari took the Constructors' title despite not scoring at the final round,
and on the podium, Diana Ross handed out the trophies to a delighted Alboreto for his maiden F1 victory, a very happy Eddie Cheever, and a slightly non-plussed John Watson. Watty did, however, carefully retain his Caesars Palace laurels for the pictures...
Last Time F1 Raced in Las Vegas
Its F1.com so click watch on youtube.
Alan Jones was not a fan of Vegas but did like the US of A tracks
.
"I personally always enjoyed racing in America — always did," he tells Fox Sports. "Mainly I guess because it was sort of closer to Australia in terms of, you know, you could go and get a hamburger and the weather was a lot better than in England.
"And America has some fantastic circuits. I enjoyed racing at Long Beach, Watkins Glen — it's underestimated just how many good circuits they've got."
By the time Jones won his 1980 title, the USA had two mainstay races, one on each coast.
The traditional Watkins Glen was a ferociously quick old-school circuit in New York, while relative newcomer Long Beach was a street circuit on the shores of the Pacific Ocean in southern Los Angeles.
Both were respected by F1 drivers, and both to this day command hardcore followings among the American and worldwide racing communities.
But notably absent from Jones's list is Caesars Palace, F1's first crack at making it big in Las Vegas.
I found this interesting pic which shows the old track outlined alongside the new one!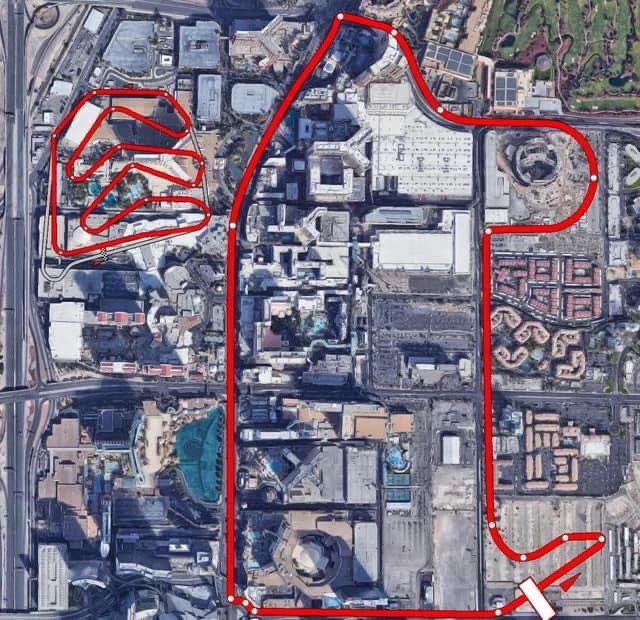 DISCUSS AWAY